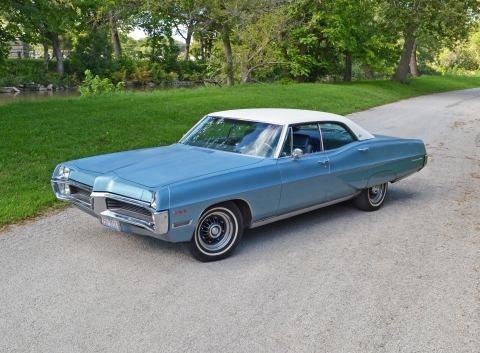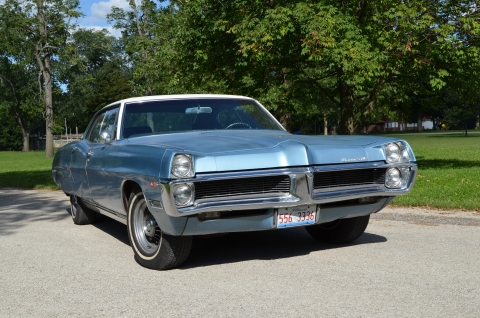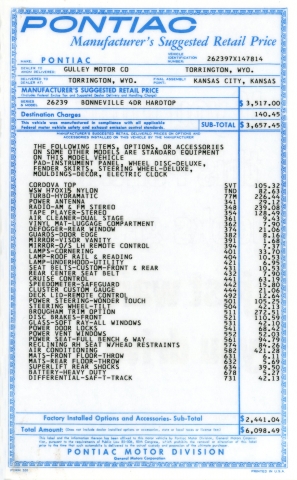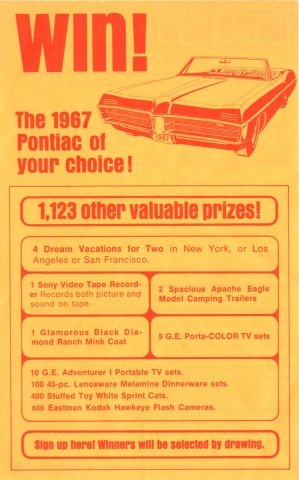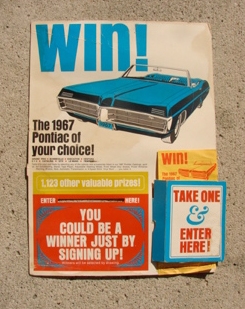 During the 1967 model year Pontiac was involved in, or conducted several promotional contests. One of them was called "Win With Pontiac."  The winner (only one in the entire country) could order any Pontiac they wanted and equip it with any accessories Pontiac offered.
     A telegram delivered on December 15, 1966 notified Mr. Orval Coy of Casper, Wyoming that he was the winner. Orval had signed up for the contest at Gulley Motor Company, the Pontiac dealer in Torrington, Wyoming. Torrington is nearly 150 miles from Casper, but it was Coy's hometown.
     Coy was a real estate agent so he ordered a Bonneville Brougham with four doors so it was easy for him to show his clients properties around town. His son-in-law, Phillip Robbins, said that the salesman told Coy the 428 was unreliable, so he opted for the 400. He then checked off quite a few boxes for options including cordova top, AM/FM stereo with 8-track tape player, power seat, reclining passenger seat, power windows, power vent windows, saf-t-track rear axle, power door locks, disc brakes, cruise control and much more.
     Orval passed away in 2001, keeping the car his entire life. His wife kept it another two years until she finally decided to let it go. She enlisted the help of her son-in-law, Phillip, who listed it locally with no luck. He then listed it in a national Auto Trader type magazine and found a buyer. Peter Klevenow of Des Plaines, Illinois put a down payment of $500 on the car in January 2003. In April he traveled to Wyoming to pick up the car and paid the remaining balance of $3,500.
     On his return trip, Klevenow encountered a snow storm, and according to the pictures from the trip, also had some mechanical trouble with the car. Once he got the Bonneville home to Illinois he did not keep it long, selling it to Ron Panzer later that same year.
     Ron loved driving the car, always keeping it in good running condition. He drove it to numerus Pontiac events and came to the museum in it several times; the car loaded with items Ron was donating. One of the items Ron donated was a set of 1967 disc brake hub caps. Later I would figure out that they were off of this car, as he had converted it to 8-lug wheels, another Pontiac feature Ron was excited about. This was one of only two things that Ron changed on the car, the other being the 428 emblems. I think he may have done this because he was somewhat of a prankster and he would often like to pull jokes on his friends. And, he may have wished that Orval had ordered that 428 in spite of what the salesman told him.
     Ron passed away on April 1, 2014 and in May his wife Gail donated the Bonneville to the Pontiac-Oakland Museum. Like Ron, we plan to maintain and drive the car. We have designed a very nice sign board telling the history of the car and some information about Ron that we can display when we take the car places. We will always remember Ron and his many contributions to the hobby, and we appreciate Gail's continued support with the donation of this Bonneville with a unique history.